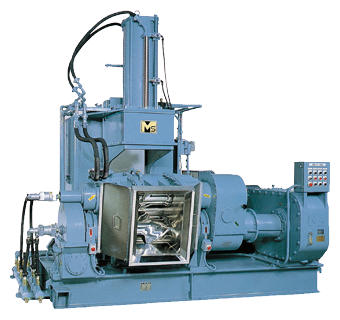 Mixer


DISPERSION MIXER

Excellent performance of dispersion enables various kind of materials to mix, from low to high hardness.
Not only rubber, plastic or ceramic but Nano-level compound can be applicable
Features
Excellent dispersability

Even the Hardest Rubber Materials Are Mixed Easily
Superior blade geometry and optimum clearance reflect our vast experience and expertise and result in an superb dispersion performance.

Excellent results even with hard-to-mix materials.
Fillers can be mixed with a variety of materials quickly and easily.
Compounds are produced with exceptional uniformity.
Materials are intensively mixed by the pressure lid so that polymers are bonded with fillers more effectively, improving filling ratios.

Exterme accuracy in control and measurement of mixing temperature
The leading edge of the thermocouple extends into the mixing chamber to ensure the greatest possible contact area. This provides a more sensitive and accurate measurement of the mixed material's temperature.

Excellent cooling efficiency

Unique Jacket Structure Facilitates Low-Temperature Mixing
The innovative structure of the jacket allows sensitive adjustment of the mixed material's temperature. Even materials which are difficult or impossible for conventional mixers to process can be mixed easily at low temperatures.

The jacket structure helps stabilize and control the material's temperature so as to prevent thermal deterioration. Material mixing is performed at the optimum temperature.
The superior cooling effect of the jacket also makes it possible to mix rubber materials and curing agents at low temperatures.

Structure


Optimum feeding method are prepared

Three Different Mixing Material Supply Methods to Meet Your Every Need

Sliding Shutter Design [Standard of DX type]
A vertically sliding shutter at the rear side material supply port of DX models is manually operated. A model with a shutter that can be driven by an air cylinder is optionally available.


Damper Chute Design
A fan-shaped damper chute at the rear side material supply port of DX models incorporates both conveyor and bucket (as illustrated) to automatically supply the necessary amount of material calculated for each process. This design is particularly helpful in automated production lines.


Fixed Chute Design
By installing a measurement unit over the fixed chute, material supply can be fully automated (as illustrated). This is especially convenient when mass-producing a large volume of identical compounds. Such automation is also ideal for the streamlined production of plastic compounds.


Easy maintenance

Easy Cleaning and Maintenance
The MS mechanical packing between the rotor and mixing chamber, which serves to prevent leakage and enhance overall durability, is easy to replace and maintain.

The rotor surface which contacts the mixed material is made of a wear-resistant alloy. A special resin packing is also used to improve overall durability and prevent leakage.
Because the packing is dry, there is no chance of inadvertently soiling the machine or the materials mixed. Yet cleaning and replacement of the packing are done simply and quickly.
Models with a gland packing are also available.

Mechanical Seal Quick Maintenance System

Variable Rotor Speed
A model equipped with a variable speed motor is also available upon request. The rotor speed of this model can be adjusted to ensure optimum processing of each specific material. It is therefore much easier to adjust the mixing ratio or even to shorten the mixing time. A DC motor or an inverter motor can be used as the variable speed motor.

Compact, Yet Highly Reliable Speed Reducer
A high-precision, high-quality speed reducer is used to ensure high durability and longer service life. It is designed to be compact and to generate less noise.
Applications
Rubber product for Automobile (Oil seal, Body seal, Gasket, Belt, Hose, Tube)
Electric wires (Rubber, Plastic, Wire harness)
Belt (Power transmission belt, Conveyor belt)
Roll (Rubber, Plastic, Printing, Copying machine)
Rubber product for Medical (Plug, Cap, Glove, Dental)
Sporting goods (Golf ball, Athletic ball)
Food (Chewing gum)
Moriyama-Pioneering the Advance of DISPERSION MIXERs Superior in Performance
Moriyama, the leading developer of DISPERSION MIXERs, has supplied to customers throughout Japan and the world over 3,000 mixers acclaimed for their performance and ease of use.
These sophisticated mixers accommodate a tremendous variety of materials, from general rubber and plastic compounds formed to newer materials such as ceramic and compound materials such as plastic magnets.
Products Lineup
A Complete Line-up to Choose from a 10 Liter per Batch Model
DS20-40

Mixing capacity : 20 liters
Motor : 40HP ( 30kW )

DX55-125

This powerful model allows mixing of final slab sheets and the compounds with additives.

Mixing capacity : 55 liters
Motor : 125HP ( 90kW )

DS55-100

Mixing capacity : 55 liters
Motor : 100HP ( 75kW )

DX75-150

Mixing capacity : 75 liters
Motor : 150HP ( 110kW )

DX110-300

Rotor speed is infinite by Inverter Drive motor.

Mixing capacity : 110 liters
Motor : 300HP ( 220kW )

DX300-400

Mixing capacity : 300 liters
Motor : 400HP ( 300kW )