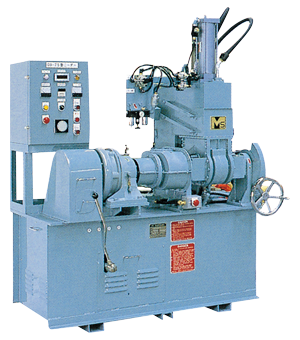 Mixer


SMALL CAPACITY DISPERSION MIXER

An unsurpassed performance to meet all your mixing needs.
New composite materials are now being developed in rapid succession to meet the needs of industry. Moriyama's dispersion mixers are specially designed for the small-batch processing required by our "new materials"era. These timely mixers meet a wide variety of contemporary mixing needs. They provide an excellent mixing performance, superb dispersion characteristics, easy handling and user-friendly controls.
Features
Though small in size, our DISPERSION MIXERs offer an number of excellent features.
Efficiently mixes materials in small batches. (Mixing volume capacities are available: 0.5, 1, and 3 liters/batch.)

Ideal for research and development of new materials and for test-mixing.

Exceptionally useful in small-batch production and in pilot plants.
Perfect for testing various mixing conditions.

Facilitates production of sample materials.
Applications
Moriyama's DISPERSION MIXERs accommodate a broad range of materials.
Rubber compounds
By virtue of the low-temperature mixing feature, various compounding ingredients (filler) can be mixed with either natural rubber or synthetic rubber material.
Plastic compounds
Excellent for mixing calcium carbonate, talc, carbon black fillers, etc. into polymers.
Ceramics
Ideal for mixing thermoplastic resin, wax, additives, etc. with alumina and other substances.
Curing agent masterbatches
Because of the low-temperature mixing feature, a curing agent can be easily mixed with rubber or polymer.
Sealed materials for Electric-Magnetic wave
Facilitates mixing of electromagnetic-shielding metallic powder with rubber or polymer.
Plastic or rubber magnets
Excellent for mixing ferrite materials with rubber or polymer at a high filling rate.
Blending polymers
The powerful mixing performance offers good blending results with many different polymers.
Wood compounds
Wood flour or rice hull can be easily mixed with polymer.
Optional Specifications
Dust collector
Air compressor
Control unit
Recorder, Programmable control unit, Spesial emergency stop device, 2-hand safety button
Jacket and piping
High-temperature type
Emergency stop unit
Others
Products Lineup
Moriyama's Complete Line-up Ideally Meets a Wide Variety of Needs
D0.5-3

Good for a expensive materials.
(The photograph shows a model equipped with an optional control panel.)

Mixing volume : 0.5 liter
Motor : 3HP ( 2.2kW )

D1-5

Good for a expensive materials.

Mixing volume : 1 liter
Motor : 5HP ( 3.7kW )
Motor : 3HP ( 2.2kW )

D3-7.5

Convenient for test compounding.

Mixing volume : 3 liter
Motor : 7.5HP ( 5.5kW )

D3-10

Most popular size as a Lab mixer.
(The photograph shows a model equipped with a metal frake piping, control panel and gear box that allows the installation of a torgue meter, all of which are optionally available.)

Mixing volume : 3 liter
Motor : 10HP ( 7.5kW )

D3-20

Heavy duty for powder high loading.
(The photograph shows a model equipped with an optional control panel.)

Mixing volume : 3 liter
Motor : 20HP ( 15kW )