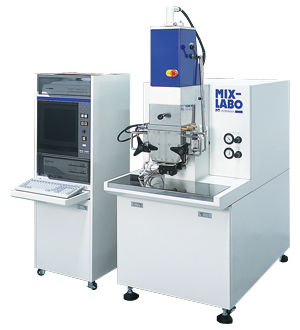 Mixer


MIX-LABO


COMPUTERIZED MIXER FOR LABORATORY USE

The powerful system that's perfect for test mixing of various kinds of materials.
The computer-controlled system ensures the effective and efficient mixing of various new materials.
ML500
Mixing capacity : 0.5 liter
Main motor : 15HP
Features
The powerful motor effectively mixes all type of materials.

The large-diameter pressing cylinder applies greater pressing force on mixing materials than do ordinary DISPERSION MIXERs.

The heater produces temperatures as high as 400℃, making it possible to mix completely new materials.

The high-performance computer ensures accurate control of experiments.

The simple operation enable quick completion of experiments.

The rotors are the same shape as those of DISPERSION MIXERs used in commercial production.