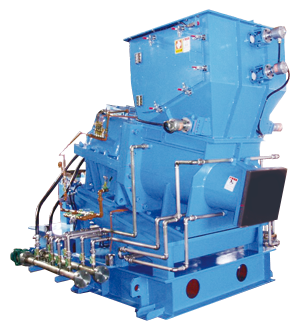 Extruder


TWIN TAPER SCREW EXTRUDER (2TE)

The twin taper screw extruder combines dies with MS-type twin taper screws. Material is extruded by the dies attached to the head of the twin taper screws. This makes the 2TE highly effective for extruding soft materials such as adhesive, tackifier and silicone rubber.
Features
Automation of the feeding and extruding processes saves labor costs.

Automatic operation ensures greater operational safety.

The materials discharged from the mixer can be charged as they are without treatment.

The MS-type twin taper screws smoothly bite and extrude the charged material.

The MS-type twin taper screws and the casing do not contact, thereby reducing heat generation.

The common-bed design simplifies installation.

Hot materials can be fed, leading to an even greater energy-saving effects.
Applications
Tackifier
Adhesive
Sealing agent
Others
Structure
The extruder is composed of a head section and a feeder section featuring MS-type twin taper screws.
The feeder section effectively bites charged material while ensuring effective cooling.