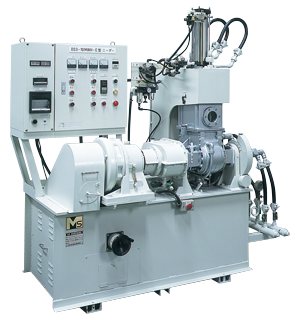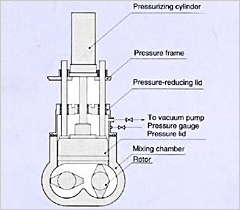 Mixer


REDUCED PRESSURE DISPERSION MIXER

Eliminate porous inside of the materials for DPF, Ceramic honey-come extrusion
The pressure-reducing DISPERSION MIXER is a new product developed to mix ingredients for new materials and highly rigid rubber compounding materials at reduced pressure. Because materials are mixed at reduced pressure, far fewer bubbles are generated in them, and many other advantages are obtained. This new DISPERSION MIXER is ideal for high-quality compounding.
Features
Far fewer bubbles are generated in the material mixed.

Powerful mixing is performed by pressurization at reduced pressure.

Highly rigid rubber compounds and other hard-to-mix materials can be mixed easily.

Advantages of mixing at reduced pressure are obtained, including improved properties.
Applications
The mixer can accommodate a variety of materials for the production of rubber compounds, plastic compounds, ceramic compounds, new materials, and adhesives.
Specification
Model
DV3-10
Mixing capacity ( liter )
3
Rotor speed ( rpm. )
Front : 3.2~48
Rear : 2.6~39
Motor capacity ( kW )
7.5 variable speed motor
Inversion method
Electric inversion 0.4kw
Vacuum Pump ( kW )
0.4
* Other model besides DV3-10 is available upon request.
* Specifications and external view are subject to change without prior notice for improvement.