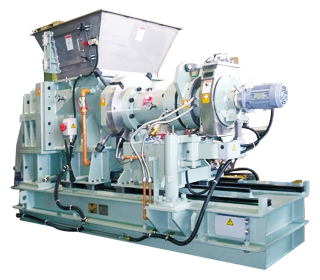 Extruder


TWIN TAPER SINGLE EXTRUDER(2TR)

Combining Moriyama twin-taper screw with a single screw extruder for seamless integration of processes.
Just discharge directly from your mixer into the open top hopper to stramline your manufacturing operation. Extruding materials at higher pressure than 2TE it is used for pellet production and pre-shaping process operation.
Features
Consistently stable extrusion

Accepts batch as discharged from the mixer

Retractable barrel exposes screw for easy cleanout

Easy to operate, easy to maintain

Energy efficient

Has screening capability

Optional pelletizing head available
Applications
Ceramics, Adhesives, Glue, Silicone rubber, Color masterbatch, Metal compound (MIM, CIM)
Structure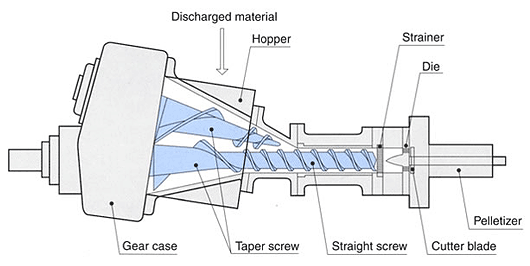 Specification
Model
2TR-50
2TR-75
2TR-100
2TR-150
2TR-200
2TR-250
Hopper volume
( liter )
6
20
110
150
300
400
Matched mixer
( liter )
3
10
20,35,55
75
110,150
200
Max. Output
( l/H )
30
130
300
800
1500
2500
Straight screw dia.
( mm/inch )
50/2
75/3
100/4
150/6
200/8
250/10
Max. screw rev.
( torque const. )
45
45
40
30
25
20
Main motor
( kW )
3.7
11
15
37
75
90
Cutter motor
( kW )
0.4
0.75
1.5
3.7
5.5
5.5
* Specifications, external appearance are subject to change without prior notice