Moriyama's Automated Line
Moriyama specializes in developing total systems handling everything from raw material weighing to kneading, preforming (such as sheeting or pelletizing), cooling and collection. These systems provide automated kneading processes of higher quality, while improving productivity, saving energy and improving plant working environments.
Automatic sheet manufacturing line
Fully automated process from rubber compounding, sheeting, releasing, cooling, cut-to-length and stacking.
Wig-wag device for multiple ribbon instead of sheet.

Automatic pellet manufacturing line
Fully automated process from compounding to pelletizing for Plastic, Pigment, Filler, Forming agent, Chemicals, Master batch, CIM, MIM.
Profile of sheet, tube are also available.

Mix Large Compound as is.
Our exclusive twin taper screws effortlessly bite through large lumps of material.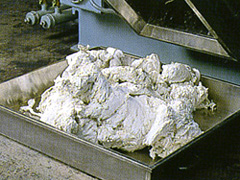 Large lumps of material discharged from the mixer can be directly charged without prior treatment.
The torsion angle and configuration of the screw flight are specially designed for maximum performance.
How the Bite Section Works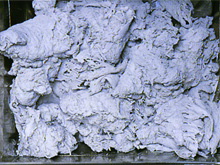 The hopper is filled with material.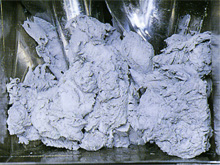 The material in the hopper has lowered to half full. The next batch is usually charged at this time.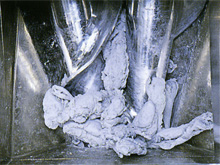 The hopper now contains almost no material.
Batch Process to Continuous Production Process
Material fed from a batch mixer to the under-mixer extruder can be processed into the final product in one continuous flow.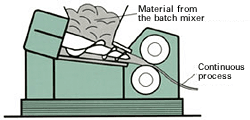 All processes can be done continuously after the batch is charged into a 2TE, SPM or FR.
Automatic operation is facilitated by a sensor that detects the quantity of material in the hopper. (Option)
Basic Structure of MS-Type Twin Taper Screws
The MS-Type twin taper screws are feeder screws developed exclusively by MORIYAMA and feature a unique design and structure. The root of the screw that receives material from the mixer has a very large flight and sheft diameter to ensure efficient biting and crushing. The tip of the screw, on the other hand, is reduced in flight and diameter. Rotation of these unique twin taper screws in different directions applied the most appropriate pressure to the material, facilitating stable material delivery to the next process.
These screws greatly simplify the feeding of amorphous mixed material which has previously been difficult for workers to process.


Auxiliary Equipment
Moriyama offers a variety of optional equipment for use with feeder ruders.
Such equipment facilitates downstream processes such as straining and pelletizing.
Pelletizer
[Hot face cut pelletizer]
Suitable for materials which should not absorb humidity while being cut.
No drying process or other post-cutting operations are required.
The temperature drop of the die is minimized.
Uniform pellet shape.
Hot face cut pelletizer
Extruded strands are cut into pellets in the open air by a rotary cutter.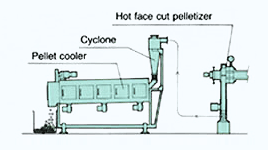 Structural view
[Underwater pelletizer]
Suitable for adhesive materials, particularly plastic compounds that cannot be cut in the air.
Ideal for mass production.
Produces pellet shapes closest to perfect spheres.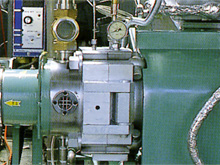 Underwater pelletizer
Extruded strands are cut by a rotary cutter into pellets which are transferred by a hot water.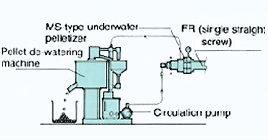 Structural view
Strainer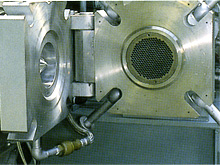 The strainer removes dirt and impurities that have been mixed into the compound. It's possible to attach an automatic screen changer that permits automatic replacement of the breaker plate or screen.
Gear Box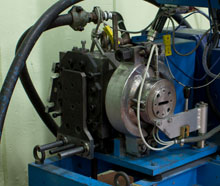 Most appropriate extruding system combined with twin taper screw extruder (2TE) for straining
Constant volume output possible at low temp.
Straining with high mesh is possible.
Low heat dissipation, high output efficiency.
Gear type extruder enabling constant volume output.
Direct feeling possible from mixied compound
Pellet Cooler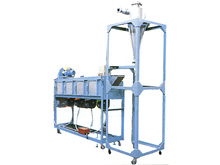 Pellets cut from stands with a hot face cut pelletizer are cooled by and through the pellet cooler which has a rotating drum having many small ventilation holes in it and the air from a blower have an effective cooling effect.
Structural view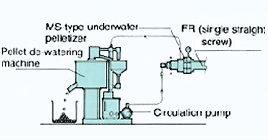 Pellet De-watering Machine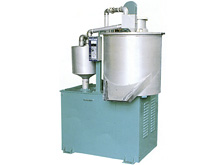 This removes water trapped by pellets produced by the under-water pelletizer.
Excellent Cooling Effect
The large casing inner wall and the innovative design that prevents contact between casing and screws provide and excellent cooling performance.
The SPM design combining MS-type twin screws and a roller head produces the maximum cooling effect is clear from the following graph and table. A temperature drop of roughly 10 to 30 °C is available. It is particularly effective in preventing the scorching of rubber compounds.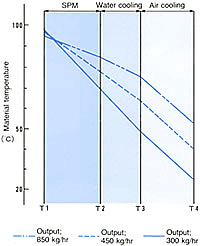 Non-Contact Design to Minimize Heat and Wear
The clearance between the MS-type twin taper screws and the casing is far greater than in conventional extruders.
Even when biting materials, proper clearance is always maintained between the screws and the casing.
The MS-type twin screws help keep the material cool.
Proper clearance is always maintained to ensure a constant, stable supply of material, thus saving energy.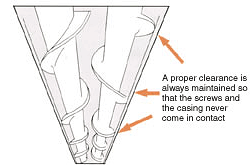 Perfectly Fit in Any Production Line
Moriyama's 2TE, SPM and FR under-mixer extruders are capable of streamlining production in various fields of industry.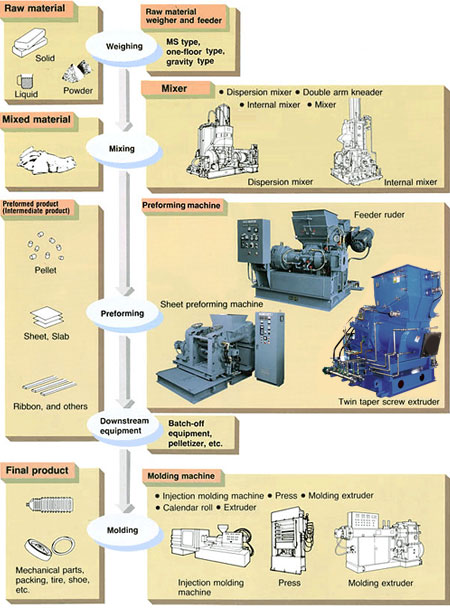 Widely in Use at Various Industrial Sectors
Moriyama's 2TE, SPM and FR under-mixer extruders are capable of streamlining production in various fields of industry.
Straining rubber compound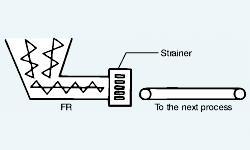 While, in an ordinary extruder, it is necessary to feed rubber compound once processed into a ribbon shape, our FR permits charging of rubber compound kneaded in a mixer without further treatment in shape to proceed to straining operation.
Extrusion of BMC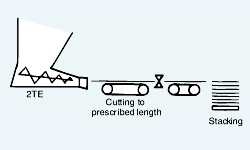 You can charge material from the mixer into directly the 2TE and conduct various types of extrusion to process the material into a pre-formed shape.
Producing composite plastic pellets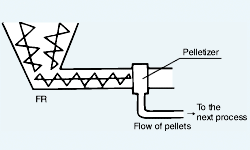 Compounds such as plastics or filler kneaded in the mixer can be charged without any further treatment into the FR to produce pellets.
Automatic adhesive feeding and tackifier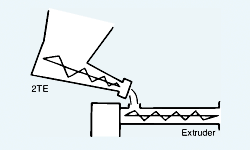 In an ordinary extruder, adhesive or tackifier must be fed in small pieces because the charging port is so small. Attaching the 2TE to the extruder's charging port eliminates this problem. The material kneaded in the mixer can be continuously fed to the 2TE hopper with no further treatment.
Easily produces slab sheets and preformed sheets made of rubber compound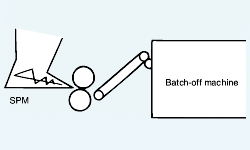 You can charge rubber compound kneaded in a mixer into an SPM for processing into slab sheets or preformed sheets without any further treatment.
Preforming plastics into sheets or rods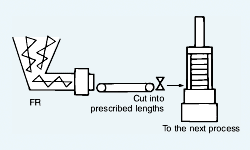 The plastic compounds kneaded in the mixer can be charged into an FR in their current shape for extrusion into sheets or any other shape required by the preforming process.